Featuring The Grief Journal
There's never a good time to lose someone you love, but it feels especially hard now. The Grief Journal was created to help guide you through all the complicated emotions that come with loss, so you can process them at your own pace. For yourself, or as a thoughtful gift for someone you care about.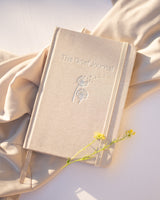 What people are saying
Beautiful, thoughtful and so helpful! I bought this as a gift for my mother in law after we lost my father in law suddenly to covid. This book is always in her hand or close by. She finds comfort in writing in it and using it to collect the funeral prayer card, special sympathy notes from others, etc. When you just don't know what to say to someone who has lost a loved one, this gift says it all.

Kayleena
I lost my dad April 2020 from Glioblastoma, brain cancer. I was stuck for a year in grief, keeping my emotions hidden for I didn't know how to deal with grief and how to process it. For the first time, I've been able to smile while writing about my dad, granted as tears fall...but it's helping...just to be able to get things out instead of keeping them in.

Nicole
Beautifully made. Perfect gift to give to someone to show you are supporting them, without being too overbearing. It's hard to be there for someone going through a loss, but this was the perfect way to show my support and sympathy. The prompts are perfect and the quotes are a great addition.

Marissa
This is such a beautiful grief journal. The materials are high quality, and the prompts and quotes throughout are heartfelt and clearly created by someone who has endured a difficult loss. I will be ordering more of these!

Elizabeth
I bought this journal for myself after my brother passed away at 19 from brain cancer after a long and awful battle. The journal itself is simple and beautiful, the pages smell amazing and have a wonderful soft quality. The prompts are simple and straightforward and clearly written by someone familiar with grief. Each prompt has several pages of space to write (hooray room!) with a quote and small illustration. Beautiful done!

Brianna
What is our mission?
Grief is harder to process when you feel alone. And even the best friends and counselors aren't always able to be there, or able to help. We hope to bridge that gap with a tool that helps people feel more in control of managing their grief, through all its stages. Our goal is to create a resource so impactful that people who are suffering no longer feel they have no place to turn.
My Story
My father died when I was only fourteen. I can still feel that grief now, but at the time that it happened, the feelings of loss and heartbreak came in so many forms. The one outlet that seemed to provide healing for me was writing. I found the more I wrote, the less I bottled up my emotions, and the easier it was to heal.
I created The Grief Journal in the hope of helping others experiencing grief after a loss. I know firsthand how painful the death of a loved one can be, and how sometimes all you need is an outlet.  My wish is that this journal will help you heal, and provide you with a book of memories of love that will last you a lifetime.
With love,
Stephanie